Personalized Care
When you call, you speak to a person.
Locally Owned
Serving the community for over 50 years.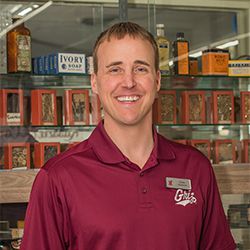 In a small town like ours, we know there aren't a lot of options – often, any other options! – to get things like prescriptions, over-the-counter medications, home care items, even bandages and sports braces when you need them the most.
That's why we do our best to stock a variety of items in our pharmacy for your ongoing health, business, home, and personal needs. If you don't see what you are looking for just ask. In most cases, we can get what you're looking for in the next day – without shipping fees!
Not to mention, when you come in, we work hard to get your prescriptions filled quickly and give you the best service around. We want our time and needs valued when we're on the other side of the counter as customers, so we are committed to doing the same for you!
We have been serving Lolo since the 1970s. Soon after the original owner, Dean, opened the store, he became a local legend by providing excellent health care and a great penny candy section to keep all the kids happy. Now that those kids are all grown up, they bring their kids into the store and remind them that this is the place they used to get their penny candy, too.
Our pharmacists, techs, and clerks stirve to provide the friendliest customer service. Our goal is to treat each and every patient like family because you quickly become part of our family here – you just don't have to worry about us hitting you up for gifts every holiday season!
Like so many of you, I grew up in Montana and am proud to raise my children here and be a part of our community. I've always wanted to give back to my community and country, which is one of the reasons I joined The United States Marine Corps as a young adult. After serving my country, I wanted to continue serving and helping others, ultimately choosing pharmacy as my profession. I'm excited to help my Lolo friends and neighbors receive the best medical care in our neighborhood.
If you have a question about a product we carry or the prescriptions and pharmacy services we offer, or are looking to transfer your prescriptions to us, give us a call at (406) 273-2322 and we'll get back to you as soon as possible!
Thank you so much for your support and patronage – it means a lot to me, my family, and our staff!
– Corey Heffernan